Browse Live Videos
Links to Available Shows
Loading...
Share your screen
note: Do not forget to click "Share audio" in Chrome.
(Firefox does not support audio sharing.)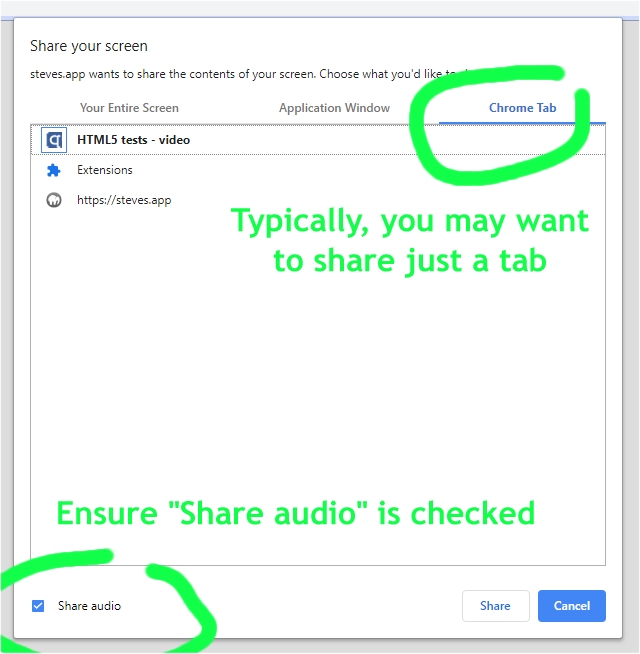 Share Your Webcam
Select the audio/video source below and when you're ready just click START SHARING WEBCAM
Video source:
Audio source:
Share a local video
notes:
It's important to not minimize, close, or change focus to another tab while sharing. Doing so will cause the video to stop.
We will ask permissions to push notifications; this is only to notify you of urgent problems with your stream
SELECT THE VIDEO FILE TO SHARE
Enable OBS Support
OBS is an open-source broadcast and production tool; great for game capture or small studio productions.
Steve's App supports OBS on Windows OS by means of enabling it as a virtual webcam source; we can use an OBS plugin for this
To have this work, we will need to do the following:


1.Download and install OBS

2.Download, install, and configure the OBS-VirtualCAM[Windows Only]

3.When visiting Steve's App, select "Share Your Webcam" and select the OBS Virtual Camera as the video source
You can confirm the OBS Virtual Camera driver is setup correctly by
Mac users can check out
ManyCam
as a alternative solution
Enable Premium Mode
Being a premium broadcaster comes with the follow features:
Increased privacy
Reduced CPU and Network Load
HD Video Supported
Better Viewer Experience
Reach thousands or more
...oh wait !
This is all already added or coming soon. Thank you for your support.
API Access
Want to use Steve's App to extend your own Content Delivery Network?
We support WebRTC, and RTSP/RTMP ingestion on special request. contact us. er.. me: [email protected]
August 2023 update
=> Please use
https://vdo.ninja
instead going forward. Steves.app is being retired and will no longer function.
What is Steve's App?
100% free; no downloads; no personal data collection; no sign-in
Share and watch live video with your friends, family and others, all with the lowest video delay possible.
We use cutting edge Peer-to-Peer forwarding technology where the viewers help distribute the video stream to others.
Send feature requests and support: [email protected]